Spišská Nová Ves has been a special place for Brazil in Slovakia for more than two decades, as the world leading compressor manufacturer Embraco arrived there in 1997. Since then, other three Brazilian companies – CRW, Rudolph Usinados and Microjuntas – have set up manufacturing facilities in Spišská Nová Ves .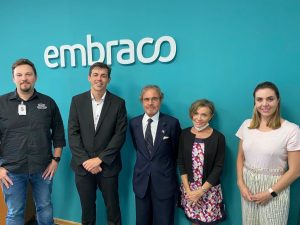 As the host to one of the main Brazilian companies cluster in Central Europe, it comes as no surprise that Spišská Nová Ves has become in 2002 a sister city of Joinville, the highly industrialized birthplace of some of those companies, in the Brazilian state of Santa Catarina. The Brazilian Ambassador in Bratislava, Eduardo Gradilone, was glad to check the impressive premises of the factories and to learn from their directors about their successful investments in Slovakia and how they are coping with the current situation of the world economy.
The mayor of Spišská Nová Ves, Pavol Bečarik, gave a warm welcome to the Ambassador and his wife at the town hall.
As part of a trip to several sites in Eastern Slovakia, Ambassador Gradilone also spent a few days in Košice, where he visited BSCC member Eskada and had a meeting with mayor Jaroslav Polaček.